Selling stolen phones, including barred & blocked
If the mobile phone that you're planning on selling fails any of the following checks you will not be getting paid.
Barred mobiles = FAIL... No recycle cash for you!
Blocked mobiles = FAIL... No recycle cash for you!
Stolen mobiles = FAIL... No recycle cash for you!
In the UK alone, the met police report that over 10,000 phones are subject to theft every month. The most common thefts come from parked cars, or young people leaving their phones in taxis. Here at CompareMyMobile we do not like thieves, and neither do the recycling companies - they work closely with the police. Mobile phone recycling does not support criminals selling these phones.
Doing some research? Ask us on our press page and download our press pack!

Press Kit Download
Selling stolen or lost phones to recyclers
You can't - so don't try it. You are breaking the law and recyclers have the means to catch you out and sent the police knocking. Every phone that comes into a recycler is checked by checkmend online tools that will report if the phone is stolen or listed.
Any that come up as missing are reported to the police and they will hold the device until issues are resolved.
How do they detect stolen phones?
To find out the status of a phone or gadget, all recyclers perform a history check on CheckMEND (image to the right) from over 50 billion records.
An International Mobile Equipment Identification (IMEI) number is assigned to every phone, and is completely individual to that one device. Just by turning the phone on - thieves can be caught. As soon as the phone is switched on the SIM attempts to connect to a network.
Once found, it then attempts to connect to the nearest tower via location. As this happens, the phone passes on the IMEI number along with a whole bundle of other information - as quickly as that, the phone can be accessed and traced by the mobile operator and police.
Report lost / stolen devices
Want to make it harder for a thief to dispose of your old device? You can report lost or stolen devices here...
Visit:
www.immobilise.com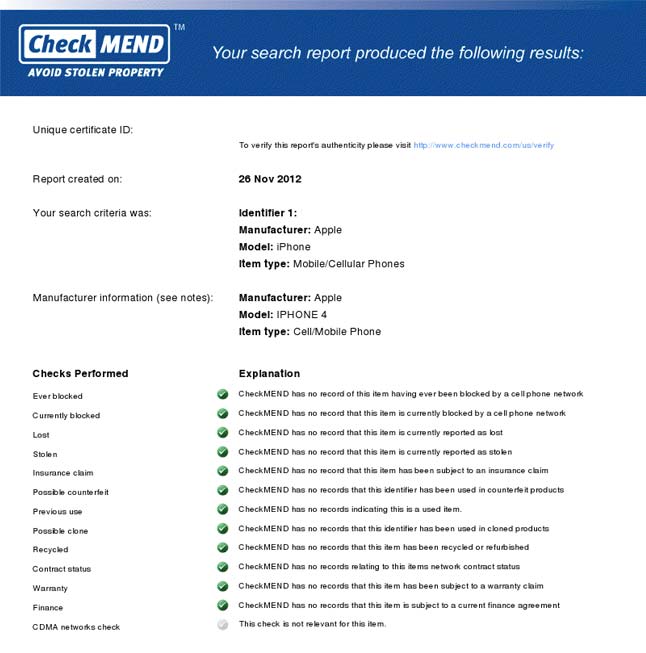 Top tips to protect against theft of mobile phones and gadgets
1. Do not leave your phone in a car
It sounds simple, but tens of thousands of people have their phones stolen from cars every year just by leaving them visible. Keep them out of sight.
2. Get insurance
Those new flashy phones are great value on some of the contract deals you can get now, but they can also be expensive to replace if lost or stolen when you don't have insurance. By all means, go on comparison sites and check which insurance gets you the best deal, but make sure you read the fine print and are totally covered.
3. Register your phone at Immobilise.com
Immobilise is the online UK National Property Register. You can register loads of your property on there, from bikes and computers to mobile phones, and use Immobilise to instantly tell police, insurance and the second-hand trade that your items are missing. They assist police in finding out where thousands of missing items are every day. And it's free to register. That's got to be worth it... www.immobilise.com
4. Use the mobile phones screen lock password
Most phones have settings that allow you to set a password to enter before showing your details. It's always a good idea to have one of these in place. This way, if thieves do get hold of it they do not instantly have access to your photos, contacts or emails and usually if they enter the wrong code too many times the phone will block them out. Make it's better than 1, 2, 3, 4 though - we need passwords that thieves can't crack easily.
Apps that protect your stolen phone
If your phone has been stolen there are apps you can use to protect these thieves from accessing your information. Here are our top two:
Recommended Apps
BlackBelt Anti-Theft
- Alert 3 people if SIM is changed
- 100% locks if SIM is changed
- Remote geo location tracking
- Remote lock or wipe
Lookout Mobile Security
- Sound alarm on missing phone
- 100% locks if sim is changed
- Remote geo location tracking
- Remote lock or wipe
Select your mobiles brand to view recycle prices